2016 Spiritual Unity Vigils - Hopi and Taos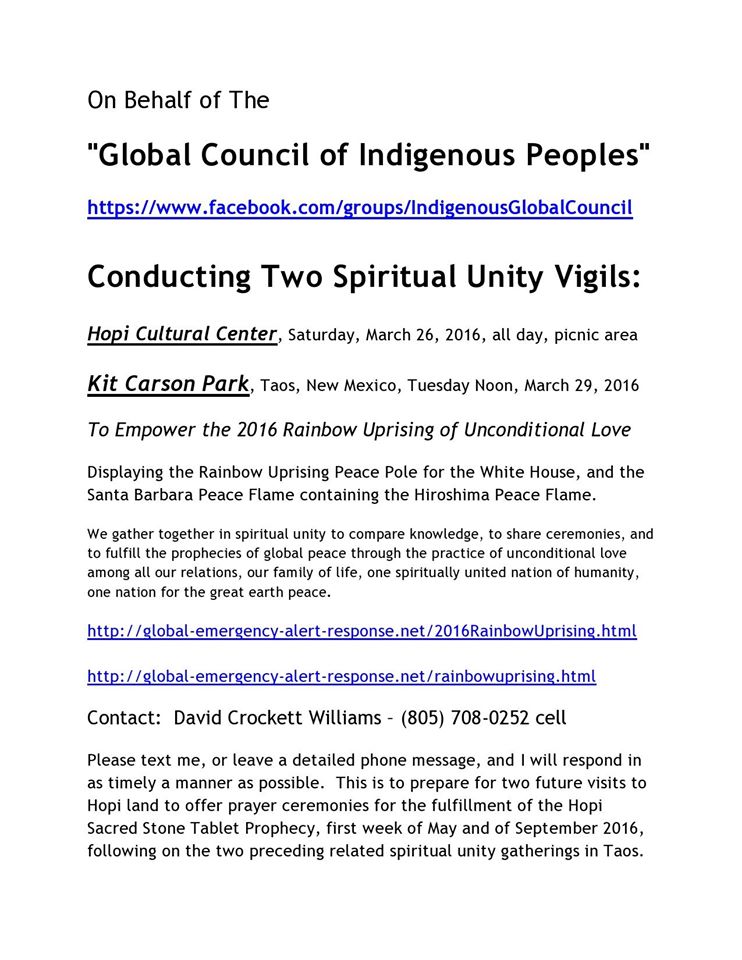 On Behalf of The

"Global Council of Indigenous Peoples"

https://www.facebook.com/groups/IndigenousGlobalCouncil

Conducting Two Spiritual Unity Vigils:

Hopi Cultural Center, Saturday, March 26, 2016, all day, picnic area

Kit Carson Park, Taos, New Mexico, Tuesday Noon, March 29, 2016

To Empower the 2016 Rainbow Uprising of Unconditional Love

Displaying the Rainbow Uprising Peace Pole for the White House, and the Santa Barbara Peace Flame containing the Hiroshima Peace Flame.

We gather together in spiritual unity to compare knowledge, to share ceremonies, and to fulfill the prophecies of global peace through the practice of unconditional love among all our relations, our family of life, one spiritually united nation of humanity, one nation for the great earth peace.

http://global-emergency-alert-response.net/2016RainbowUprising.html

http://global-emergency-alert-response.net/rainbowuprising.html

Contact: David Crockett Williams – (805) 708-0252 cell

Please text me, or leave a detailed phone message, and I will respond in as timely a manner as possible. This is to prepare for two future visits to Hopi land to offer prayer ceremonies for the fulfillment of the Hopi Sacred Stone Tablet Prophecy, first week of May and of September 2016, following on the two preceding related spiritual unity gatherings in Taos.

-----

I will be adding more details to this page as time goes by about this purpose and schedule.